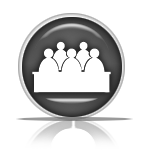 Edoc Technologies Software is ODBC Compliant, GUI based on ANSI standard. All applications are network extensible and work in the multi-processing operating system environment (Windows 2000, XP and Vista). We offer applications that are interlocking, non- proprietary, client/server, multi-user and real time solutions.

Jury Selection
Allow you to maintain an up-to-date database and then randomly select jury candidates for juror service.

Key Features:
Print Jury Wheel
Print summons on your preprinted summons card.
Print summons on regular 24lb. paper
Print Roll Call by jury number or alphabetic.
Print labels
Reshuffle a list in seconds.
Split a jury.
Pay jurors.
Juror can donate jury fee to Victims of Crimes
Custom reports for your office.
Stand-alone or net workable; multiple clerks can access the system.

Edoc Technologies can offer your County an integrated software system with NO SOFTWARE LICENSING FEE and the most affordable installation and maintenance fees in today's market. No longer are small to medium cities held hostage by "big" company pricing. Call our Sales and Marketing Department and learn how you can upgrade your software solution and downsize your software service costs and maintenance payments.